Professor Wrochna gave a lecture during ceremonial inauguration of the Children's University academic year
2015.10.06 7:50 -

admin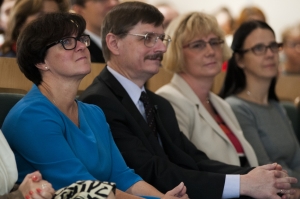 Professor Grzegorz Wrochna on the ceremony of inauguration of the Children's University academic year
Children's University new academic year was ceremonially inaugurated on October 3, 2015. During the ceremony the best lecturers and workshop leaders of the previous academic year 2014/2015 selected by the children have been distinguished and awarded. The ceremony culminated in a lecture entitled "What our Universe is made of?" given by Professor Grzegorz Wrochna, NCBJ Director General.
"(…)Already the ancient Greeks suspected that everything around us is composed of some indivisible particles. They named those particles 'atoms'. However, it took over 2000 years to collect evidence substantiating that supposition (…)" – said Professor Wrochna. He also explained what methods can be used to observe small atoms, invisible for naked eye.
The guests who arrived to the ceremony included Joanna Kluzik-Rostkowska, Minister of National Education; Włodzimierz Paszyński, Deputy President of the Capital City of Warsaw; representatives of Universities-patrons of the Children's University Foundation; representatives of public institutions, associations and companies that the Foundation cooperates with; so-far awarded and distinguished lecturers.
Children's University is a modern educational programme based on children's curiosity. It has been run since 2007 under the patronage of Rectors of more than a dozen higher education institutions, such as: Jagiellonian University in Cracow, University of Warsaw, University of Wroclaw, University of Warmia and Mazury in Olsztyn, AGH University of Science and Technology in Cracow, Cracow University of Technology, Warsaw University of Technology, The Maria Grzegorzewska University in Warsaw. Almost 25 thousand children aged 6-14 from the entire country have participated so far in the programme. Asking questions of all sorts the children develop their interests beyond the school education and discover their passions/talents.