NCBJ spokesman awarded for his professional information policy
2015.12.21 8:47 -

admin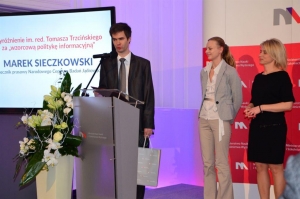 From left to right: Marek Sieczkowski, NCBJ spokesman, Urszula Rybicka, chief editor of the "Science in Poland" website, Lidia Sobańska, PAP SA Board Member (photo PAP/ B.Szumiec-Presch)
Marek Sieczkowski, NCBJ spokesman, has been awarded with the Tomasz Trzciński honourable mention for professionalism in shaping the Institute information policy. This prestigious award is awarded within the framework of the "Science Communicator 2015"  competition organized by Polish Ministry of Science and Higher Education together with the "Science in Poland" website run by PAP (Polish Press Agency). The award proves efficiency of Mr. Sieczkowski's communication activities.
The "Science Communicator 2015"  competition awards go to persons and institutions who help the public to better understand the world and attract interest of laymen in science achievements. Results of the 11th edition of the competition were announced on a ceremony held on last Thursday in Warsaw. The ceremony was honoured by Jarosław Gowin, Polish Deputy Prime Minister and Minister of Science and Higher Education.
The competition jury chaired by Professor Michał Kleiber has selected prize winners in four categories (Persons, Scientific Institutions, Other Institutions, Media) and honourable mention winners in two categories (Science in the Internet, Sponsor). The Tomasz Trzciński honourable mention has been awarded for professional information policy by journalists running the "Science in Poland" website. In this year that latter honourable mention went to Marek Sieczkowski.
Mr. Sieczkowski has been NCBJ spokesman since 2012. Thanks to his work NCBJ was permanently on media and Institute experts could convey fair and complete information to the public. His most important achievements include contribution to coordination of celebration of 60 anniversary of IPJ (NCBJ predecessor), planning the celebration of 40 anniversary of the MARIA reactor operated in Świerk, preparing the programme for study trips of journalists in DESY (European-XFEL), Greifswald (W7X), and CERN (LHC), providing media services for events such as Higgs boson discovery or Nobel prize for discovery of neutrino oscillations.
Eng. Sieczkowski graduated in logistics and transport technology at Warsaw University of Technology. Afterwards he concluded several post-graduate studies, including: management at University of Finance and Management in Warsaw, PR and advertising psychology at Warsaw University, investor relations & finance communication at Warsaw School of Economics. His professional record includes Communication Manager/PR/Spokesman positions in PKP Energetyka (a company within the Polish Railways group), Warsaw Public Transport Authority, Warsaw Trams, PKP S.A. (a company within the Polish Railways group), Wincanton.
The "Science Communicator 2015"  competition  organized since 2005 is the oldest and most prestigious competition in Poland for scientists, media people, and institutions/volunteers interested in popularization of science among the broad public.