Modern vocational education offer from NCBJ
2015.02.15 17:04 -

WladyslawSzymczyk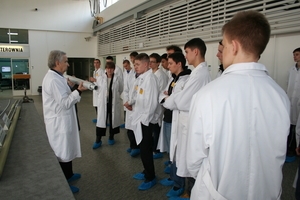 Students on a training course in NCBJ (February 2014)
Effects of the "School with the future" 2+ years long research project on modernisation of teaching in nucleonic secondary/vocational schools recently accomplished in NCBJ include a new core curriculum, teaching plan/detailed curricula, a textbook model, set of lab exercises, set of tests aimed to verify the acquired knowledge, list of equipment indispensable in a school classroom used to teach nucleonics. Major topics of the curriculum include various forms of energy/energy transformations, structure of the atom and the nucleus, basic properties of ionising radiation, sources of the radiation, radiation impact on living cells, practical applications, radiation measurements, and data analysis. The offer to modernize/enhance science teaching in technical secondary/vocational schools concerns three professions: nucleonic technician, nuclear chemistry technician, and nuclear electronics technician.
"Results of a research commissioned by NCBJ on current status of vocational education in the context of job market in Poland have revealed a low quality of education in technical secondary/vocational schools." – said MSc. Marcin Sadowski, Principal Investigator in the "School with the future" project – "In cooperation with a group of teachers and students from the Mazovia region of Poland we decided to do something about it. Staff of the NCBJ Department of Training & Education worked out teaching materials for three technician professions, which were later verified in selected secondary schools in Warszawa, Ostrołęka, Garwolin and Płock. Even in the most optimistic scenarios we did not expected that nearly 150 students would attend those extra-curricular activities! Such a high number of attendees is an indication of a tremendous interest of Polish youth in modern science and technology. We have organized additional training courses in our Institute, attended by 76 young persons."
The teaching materials worked out in NCBJ and tested in selected schools may be used as a ground, on which a comprehensive system of staff training (e.g. for Polish Nuclear Power Programme) might be developed. Currently implementation works are in progress. Jointly with Mazovian Government Centre for Professional Development of Teachers, a partner in the project, we evaluate the obtained results together with school directors and teachers and discuss various implementation possibilities.
"We are very glad that the 'School with the future' project met with such positive perception of both youth and teachers. Professions that have attracted our attention were formally recognised in the past. However, they were discontinued after the project to develop the Żarnowiec nuclear power plant was abandoned. Now, when the Polish government is pursuing the programme to develop the first nuclear power plant in Poland, we hope that results of our work might help Ministry of Economy and Ministry of National Education to work out some forward-looking methods of training nucleonics technicians" – pointed out Professor Ludwik Dobrzyński, Director of the NCBJ Department of Training & Education, the "School with the future" project initiator – "It must be remembered that technicians comprise at least half of crew of any nuclear power plant. Educational materials currently offered by publishing houses for schools that teach candidates for nucleonics technicians do meet the requirements of the professional core curricula currently in force. However, they contain some factual errors indicating a very poor acquaintance of their authors/reviewers with nuclear-related topics."
The "D-Shuttle Project" international project initiated by one of the Japan high schools is a value added to the "School with the future" project. Its objective is to bring ionising radiation topics closer to young people and to truly show consequences of the Fukushima nuclear accident in 2011. Students from Japan, France, Belarus and Poland (including participants of the "School with the future" project) were for two weeks measuring background radiation levels next to their homes, schools, and playgrounds. The measured data will be reported during a teleconference set up between project participants.
The "School with the future" project of value 921,642 PLN was partly financed by European Union within the Human Capital Operational Programme framework. In view of very good results obtained, NCBJ researchers are going to continue efforts to improve science teaching performance in Polish technical secondary/vocational schools. Currently considered plans of further activities include a new programme tentatively entitled "Knowledge, Education, Development", patronage classes, making some NCBJ's labs available for students. We also are planning to establish Mazovian Nucleonics Network, a forum to disseminate knowledge on ionising radiation-related topics.